Introducing the touch-less, fully automated, drive through, ARROWCLEAN Wash System from Red Arrow Manufacturing. Our ARROWCLEAN drive through automated wash system is the result of over 25 years of experience developing automated wash systems for our customers. The ARROWCLEAN system uses touch-less technology and unique oscillating manifolds to clean tough grime and road film on all vehicle types.
If you are washing buses, tractor trailers, or have a multitude of different vehicles, the ARROWCLEAN system can be tailored to fit your needs. The touch-less design coupled with oscillating manifolds provides a thorough clean for vehicles of all shapes and sizes.
Every ARROWCLEAN system is manufactured to last and provide a high quality clean wash after wash, with minimal maintenance required. Scroll down and check out what separates us from the competition and what makes the ARROWCLEAN system the best choice for your fleet washing needs.
System Features
Oscillating Manifolds
Under spray Manifolds
Precision Chemical Metering
Flexible Design
Minimal Maintenance
Designed and Manufactured to Last
1-2 minute Wash Cycle
High Throughput
Reliability
Customization Options
Industry Leading Technology/UI
Photo Gallery
Effectively Cleans:
School Buses
Transit Buses
Garbage Trucks
Tractor Trailers
Bob Tails and Box Vans
And more!
Value Added Benefits:
360 Degree clean
Completely Touch-less
Fully Automated
Low-Maintenance
Provides Superior Clean
Manufactured to Last

Here at Red Arrow we value the partnership with our customers above all else. That is why we work with every customer throughout the planning process to design a system that best fits their washing needs. The design below is the starting point for every one of our systems. Keep in mind that this design is flexible and will be adapted to your needs.
The typical ARROWCLEAN drive-through vehicle wash system consists of two high pressure chemical spray arches and a high-pressure/high-volume rinse arch, wheel spinners at each arch, an oscillating under spray manifold, Master Control panel, and appropriate controls and sensors. For more details, click the 'Comprehensive System Review' link below or give us a call.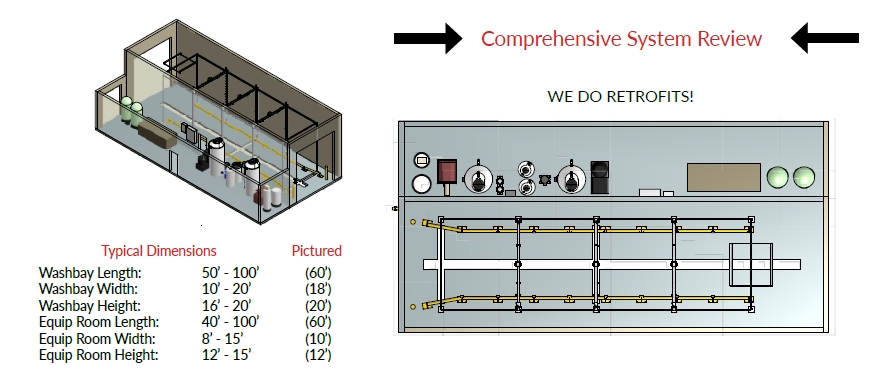 Have we peaked your interest? Want to see a live demonstration of one of our systems?
Give us a call at 303-375-0908.